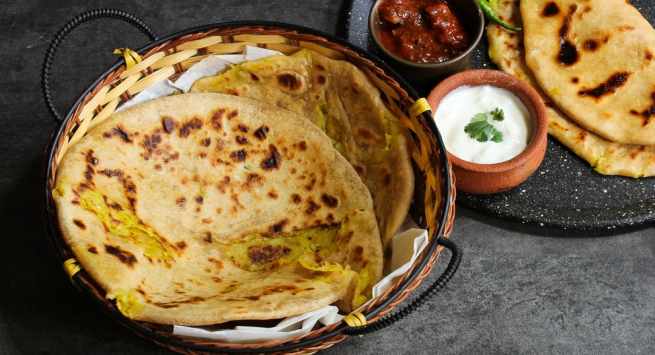 Gluten-free flours are an excellent replacement to provide calories necessary for growth and development.
Millets are small-seeded grains. They have been a part of our traditional diets. However, they have regained their importance in recent times owing to their superior nutritional properties, which has also led them to gain the title of 'Nutri Cereals'.
For Children With Gluten Intolerance
Head-Nutrition Sciences, Dr Bhavna Sharma, ITC Ltd (Foods Division), shares that children with celiac disease or other conditions leading to gluten intolerances lack essential nutrition due to dietary restrictions. Gluten-free flours are an excellent replacement to provide calories necessary for growth and development.
Recipe: MINI ALOO CHEESE PARATHA (gluten-free)
Preparation time: 30 minutes
Serve size: 1 mini aloo cheese paratha
Ingredients Amounts
Gluten-free flour: 30g (1/3rd cup)
Potatoes (chopped): 50g (1/2 cup)
Onion (chopped): 25g (1/4th cup)
Kasuri methi: 5g (1 teaspoon)
Cheese: 10g (2 teaspoons)
Ghee: 5 ml (1 teaspoon)
Method
To prepare the dough: Add boiling water to the gluten-free flour and knead until a smooth dough forms.
To prepare the filling: Mash the boiled potatoes thoroughly and mix with onion, Kasuri methi leaves and spices, including teaspoon turmeric powder, teaspoon chilli powder, teaspoon coriander powder, teaspoon whole cumin seeds and salt to taste.
To prepare the paratha: Divide the prepared dough into two portions and roll thinly into round chapatis.
Spread one portion of the potato mixture and shredded cheese onto one chapati, leaving a 1-inch gap around the sides of the chapati.
Layer the other chapati onto the mixture to seal the paratha, cook and serve with a teaspoon of ghee.
Conclusion
Millets are abundant sources of many essential nutrients unavailable from commonly consumed refined grains. They contribute extensively to children and adolescents' vitamin, mineral and dietary fibre needs. Introducing millets for children has sparked a new interest in adding to nutrient profiles and dietary diversity. India has a significant history of millet-rich diets that have resurfaced recently, bringing attention to its immense potential to contribute to the healthy growth and development of these young minds.
Total Wellness is now just a click away.
Follow us on
window.addEventListener('load', (event) => {
// $(document).ready(function(){
$('#commentbtn').on("click",function(){
(function(d, s, id) { var js, fjs = d.getElementsByTagName(s)[0]; if (d.getElementById(id)) return; js = d.createElement(s); js.id = id; js.src = "//connect.facebook.net/en_US/sdk.js#xfbml=1&version=v2.3"; fjs.parentNode.insertBefore(js, fjs);}(document, 'script', 'facebook-jssdk'));
$(".cmntbox").toggle();
});
// });
});