WORLD
Heavy storms move into Arkansas as system pushes east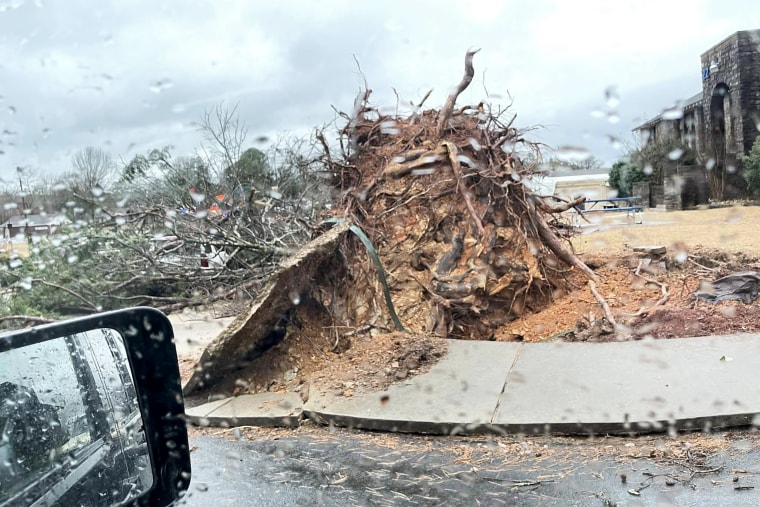 Severe winds damaged an Arkansas school Monday as classes were in session, amid a weather system that forecasters said could produce tornadoes in the South, officials said.
There were no injuries reported at Jessieville School in a storm that was thought to be a tornado at around 2:44 p.m., the Garland County Sheriff's Office said in a statement.
The National Weather Service will work to confirm whether it was a tornado, the sheriff's office said. Typically it does so with storm survey teams.
The weather in Jessieville, a community around 45 miles west of Little Rock, occurred Monday as around 6 million people were under tornado watches that covered that state as well as parts of Louisiana, Oklahoma and Texas.
Farther north, a winter storm moving across the central Plains and Upper Midwest this week was expected to bring heavy snow, sleet and freezing rain to parts of the U.S.
The storm was expected to bring snowfall to the Central High Plains as it tracks northeast into the Great Lakes, likely producing moderate to heavy snow, sleet and freezing rain by Tuesday, the National Weather Service said.
"Intense snow rates of 1-2 inches per hour may be accompanied by thunder, especially in southern South Dakota and far southwest Minnesota," the weather service said in a forecast update early Monday. More than 12 inches of heavy snow is expected to quickly accumulate from the Panhandle of Nebraska through southwest Minnesota, it said.
Gusty winds are also expected to produce areas of blowing and drifting snow, which the weather service warned could result in snow-covered roads and reduced visibility, creating potential travel hazards.
In North Platte, Nebraska, 1/4 of an inch of ice had accumulated by Monday afternoon, the weather service there said. It will switch to all snow Monday night, and around 2 feet could fall in the Ainsworth area, it said.
Moisture from the Western Gulf of Mexico was expected to move northward over the Western Gulf Coast/Lower Mississippi Valley, with the Plains front moving into the moisture, leading to showers and severe thunderstorms. An enhanced risk of severe thunderstorms over the Lower Mississippi Valley was predicted from Monday through Tuesday morning.
The thunderstorms could bring frequent lightning, severe thunderstorm wind gusts, hail and "a few tornadoes," the National Weather Service said.
Heavy rain is also expected in connection with the thunderstorms, with the weather service issuing a slight risk of excessive rainfall over parts of the Middle/Lower Mississippi Valley from Monday into Tuesday.
"The associated heavy rain will create mainly localized areas of flash flooding, with urban areas, roads, and small streams the most vulnerable," the weather service said.
There was an enhanced risk for severe thunderstorms Monday afternoon and evening across portions of east Texas, southeastern Oklahoma, Arkansas and northern Louisiana.
Nearly 19 million people were in the risk zone for storms that carried the risk of tornadoes, damaging wind gusts, flooding downpours and hail.
Portions of Arkansas, western Tennessee, northern Louisiana, and east Texas were under a Flood Watch through Monday night.
On Tuesday, severe storms are expected to continue rumbling eastward and affect areas across the Tennessee Valley and the central Gulf Coast. 
It comes after a "once-in-a-lifetime" blizzard left dozens dead last month, with Erie County in New York, which includes Buffalo, at the center of the storm's most intense conditions.
Buffalo Mayor Byron Brown said on MSNBC's "Morning Joe" that the storm was "probably worse than anything that this city has seen in over 50 years."