WORLD
World's oldest chocolate Easter egg is reportedly 83 years old: Owner hasn't taken a bite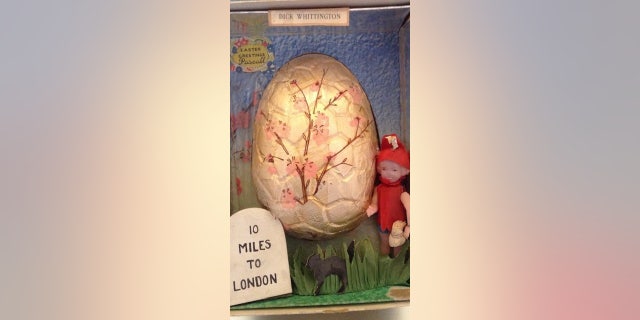 A family is putting its chocolate Easter egg on display for the 83rd year in a row. 
Martin Bennett is a dad of three from Wales, South Yorkshire, England. 
He's in charge of putting out the family's Easter egg for the Christian holiday this year. 
MEET THE AMERICAN WHO MADE EASTER SWEETER, LEGENDARY CHOCOLATE BUNNY SALESMAN ROBERT LINCOLN STROHECKER
The sweet holiday treat originally belonged to his grandmother, Alice Bennett, SWNS reported.
The egg was a gift to Alice Bennett from her son, Frank, Martin Bennett's father, in March 1940. 
The gift was given to commemorate Frank Bennett's joining the army during World War II.
Bennett said his grandmother, a mother of nine, never opened the foil-wrapped chocolate egg — she thought it was "too nice."
Today, 83 years later, it's a tradition in the Bennett household to display the egg each holiday season. 
"It must have been quite a complicated Easter egg at the time," he said. 
WHITE HOUSE EASTER EGG ROLL 2023 BRINGS PRIDE TO AMERICA'S FARMERS AS COMMEMORATIVE EGG IS REVEALED
The egg has no expiration date — but Bennett said he has never been tempted to take a bite. 
"It's from the days that you didn't have [a] 'best before' date," he told SWNS. 
"The Easter eggs don't seem to last long in our house now!"
"It's something that reminds me of my father and grandmother, and it's quite nice to get it out each year and think about them."
Bennett said he's possessed the egg since 1999 when his father, Frank, moved in with him and his family. 
REDDIT USER QUESTIONS KIDS' EASTER BASKETS LOADED WITH CASH, GIFTS AND GOODIES — AS A CHILD, HIS WAS 'EMPTY'
After Alice passed away in 1970, Frank reclaimed the egg that he had gifted her years before, bringing it to Martin's house upon moving. 
"I, now, of course, regret not having asked my father more about it and where he got it from," Bennett said. 
Frank died in 2011, SWNS noted.
THESE EASTER EGGS SHOW KIDS THE 'TRUE MEANING' OF THE HOLIDAY
Bennett's father was based in Carlisle and Manchester during World War II before he was moved to India and Singapore near the end, he said.
CLICK HERE TO SIGN UP FOR OUR LIFESTYLE NEWSLETTER
"The egg could have been bought in Carlisle, Manchester or Sheffield — or perhaps somewhere else he was temporarily stationed," he said. 
Regardless of where it originated, Bennett said he makes sure to put it on display every year — noting it is still a talking point for him and his siblings. 
"I suppose it's part of our history now," he told SWNS. 
CLICK HERE TO GET THE FOX NEWS APP
"It's something that reminds me of my father and grandmother, and it's quite nice to get it out each year and think about them."